His Sheep Know His Voice . . .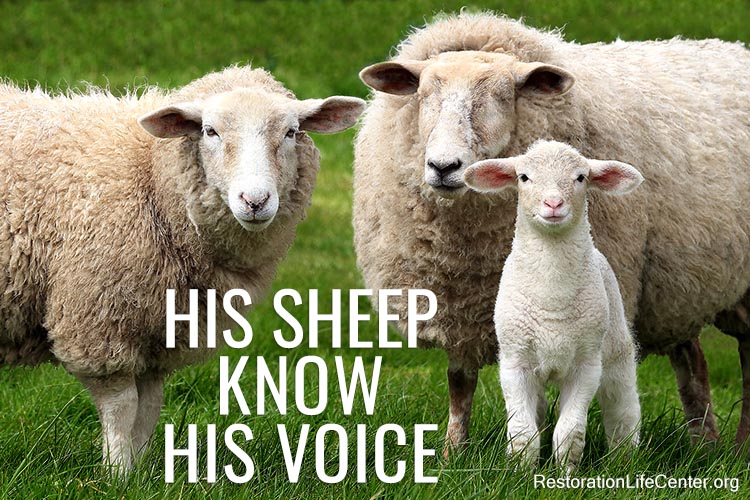 In Psalm 23 there's a beautiful analogy that compares the Christian's relationship with God to that of a sheep and its shepherd. The "rod" or "staff" was carried by the shepherd to serve as tools of protection and guidance for HIS flock.
It reads
"The Lord is MY SHEPHERD; I shall not want. He makes me to lie down in GREEN PASTURES: He leads me beside the STILL WATERS. He restores MY SOUL: He leads me in the paths of righteousness for His name's sake. Yea, though I walk through the Valley of the shadow of death, I will fear no evil: for Thou art with me; Thy ROD and Thy STAFF they comfort me".
Some time ago I did a study on the relationship between a shepherd and his sheep. One of the jobs of a shepherd was to watch his sheep all day, making sure none of them strayed, and if any wandered away from the rest of the flock, he would seek diligently until it was found and brought it back into the fold. Also, many times when a rebellious stubborn sheep would wander away and get lost its shepherd would break its leg, bind it up and hold it close until it was completely healed.
Many times carrying the wounded sheep very close to him around his neck. He was protecting his sheep, and didn't want it to get hurt out there in unfamiliar pastures. The reason the shepherd would hold the wounded sheep close was so it would become familiar with HIS VOICE. Once the sheep was completely healed and let down the sheep would stay close to his shepherd . . . BECAUSE HE WOULD KNOW HIS VOICE!!!
In Luke 15:4-7 the Bible says, "What man of you, having a hundred sheep, if he has lost one of them, does not leave the ninety-nine in the open country, and go after the one that is lost, until he finds it? And when he has found it, he lays it on his shoulders, rejoicing. And when he comes home, he calls together his friends and his neighbors, saying to them, 'Rejoice with me, for I have found my sheep that was lost. Just so, I tell you, there will be more joy in heaven over one sinner who repents than over ninety-nine righteous persons who need no repentance."
God truly cares for each and every one of his sheep, and that includes YOU!
You see, it's in our own brokenness that we too need to be close to the heart of our Good Shepherd. It is in this place we will find our healing and become familiar with His Voice. If you are in a dark or broken season of life right now, know that it's in your wounded and brokenness that He longs to hold you the closest!!
Unfortunately, many times when we are in these rough terrains of life we have a tendency to wander from His presence seeking our healing and comfort from the wrong source. We stray so far from Him that we can't hear His Voice. Instead we seek others opinions or advice.
Possibly, your life isn't so peaceful right now or you may be navigating through a difficult season. You may be wondering, "Where are the GREEN PASTURES and the STILL WATERS Psalm 23 refers to?"
There will be times along our journey when the waters will be stirred, and the green pastures seem to be nowhere in sight. I have made it through many tough seasons in my own life. I strayed so far away that I couldn't see the green pastures, and the waters have been stirred to the point of finding myself in the middle of a bad monsoon holding on for dear life. We all go through turbulent seasons; the key is what do we do when we find ourselves smack in the middle of one of life's monsoons? How do we hear the voice of our Good Shepherd with all the commotion going on all around us? How do we become STILL enough to hear His Voice?
I found it very interesting that sheep will not lie down in green pastures unless they are free from all fear. Because of the social behavior within a flock of sheep they will not lay down unless they are free from friction of others of their kind, (Hmmmm, some life lessons to be learned here).
They will also not lie down and rest unless they are free from pests like flies and pesticides, or if they are hungry. So our life lesson is to be at peace with everyone and don't allow the distractions of life to keep you away from His presence. If there are things keeping you from being close to the Good Shepherd I encourage you to lean into Him and stay close to His heart. In order to be the victorious women God is calling us to be we can't allow the things that trouble our souls to keep us from the lush green pastures and still waters He has promised in His Word.
The Bible encourages us in Psalm 100:3 to, "Know that the Lord, He is God! It is He who made us, and we are His; we are His people, and the sheep of His pasture". So if we are the sheep of His pasture why is it, when things aren't going as we think they should in our lives, instead of staying close to our Good Shepherd we wander away into unfamiliar territory?
Never forget what Psalm 16:11 says, "You make known to me the path of life; in Your presence there is fullness of joy; at Your right hand are pleasures forevermore". Why would we every want to stray from His Presence? We have a Good Shepherd who is always near. Are you close enough to hear HIS VOICE? Don't keep Him waiting!